LACKAWANNA CIVIL WAR ENCAMPMENT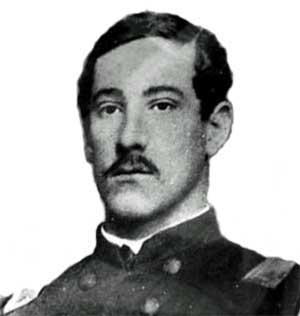 Colonel John B. Weber
On September 21, 1842, John Baptiste Weber was born in a cottage on Oak Street, north of Goodell, in the City of Buffalo.

He began his education at the age of 4 at Public School 15. He continued through to central high school when he began pursuing other occupations such as errand boy.

Weber the Soldier

At 14, he joined Company 'F', 65th Regiment of Militia as their color bearer. After the battle of Hanover Courthouse in June 1862, his first serious engagement, he was promoted to Second Lieutenant of Company 'F' of the 44th, which he commanded during the 'Seven Days Battle' around Richmond in the same year. Later he was given the rank of Captain of Company 'D' of the 44th, and was cited for meritorious conduct for actions at Gaines Mill and Malvern Hill, Virginia. His service with that unit is remembered at the 44th's monument on Little Round Top in Gettysburg, Pennsylvania, where he is listed with his comrades as Lieutenant John B. Weber.

On January 7, 1863, while on leave from the army, he married Elizabeth J. Farthing of Buffalo.

About this time he was offered the colonelcy of a Massachusetts regiment or else was authorized to organize a colored regiment. He chose the latter and was promoted to colonel of the 89th United States Colored Infantry two days prior to his 21st birthday, making him one of the youngest colonels of the war.

Weber the Politician

About 1888, new legislation was passed that placed all national immigration under full Federal control. President Harrison then appointed Weber as the first Commissioner of Immigration at the Port of New York which he served on from 1890 to 1893. He observed many dishonest practices taking place and proceeded to have Civil Service Rules established for employees, thus causing the removal of a large number of inadequate personnel. His greatest achievement at this position, was the closing of the old Castle Island entry port in New York and the opening of Ellis Island.

Colonel Weber aided in organizing the Pan-American Exposition Company first as Director, then as Commissioner General which entailed many responsibilities especially in the matters of State and Foreign relations. Largely due to his efforts, many states and foreign countries made appropriations for buildings and exhibits at the Exposition.

Also around the turn-of-the-century, Lackawanna Steel Company was looking for a location for a plant along Lake Erie. They originally had been looking for a site north of the city of Buffalo, but due to the recommendations of some prominent West Seneca residents, including Colonel Weber, they were convinced to open the plant south of the city in the then town of West Seneca.
Looking for more information??
E-Mail: The Bugler
LACKAWANNA CIVIL WAR ENCAMPMENT